There are many wonderful skills that I've gained from book blogging. But most of the skills I've gained were predictable since I'm running a book blog. I mean, obviously I'm going to get better at articulating my thoughts if I'm writing a post every few days. But there is one skill that I definitely did not expect to gain from blogging, and that is an improvement in my geographical knowledge.
Now, if you've read my post about why I like stats, you'd know that I love looking at trends and patterns that I find on the WordPress stats page. But that page also includes a map, that keeps track of which country a visitor is viewing our post from. Once a country is listed, the location on the map lights up, and the flag is posted next to the country, as you can see below.
Now I don't know if this is one of the ways the American curriculum has failed me, but I am terrible at geography. Even if I know that a country exists, I usually don't know where to find it on a map. And I definitely have no idea what the different flags look like. But running this blog is changing that. After a year and a half of blogging, we've had views from over 95 different countries, and each time a we get a view from a new country, I make a point of checking out the location on a map, and to take a moment to glance at its flag.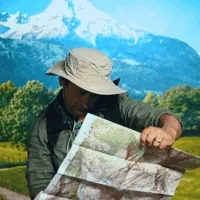 Me anytime someone from a new country visits the blog
If you'd like some examples of ignorance, until we had a view from that location, I never knew that there was a country called Brunei! But there is, and it has a super awesome flag! And I certainly didn't know how the flag looked for countries like Uzbekistan, Uganda, Honduras, or Nepal! Although to be fair, Spain, Austria, and Sweden also took me by surprise when I saw their flags, because like I said, I have really poor geography skills, which translated in me only recognizing flags from only about 10 different countries.
Now since this is a book blog, I figured this would be fun to recommend books that have unique settings in countries you don't usually read about. Since in my experience, I tend to read books set in North America or Europe, this list contains books that take place in other countries for some variety. I also tried to pick books where you got a real sense of what that country is like, which further specified this list. Most of these books are also super underrated, with less than 5,000 ratings on Goodreads, so there's a good chance you haven't read them yet!
Before I start my recommendations, I just want to put a disclaimer that since I am not from these countries, I am merely recommending these books based on how much I enjoyed the reading experience. I'm not recommending these books based on the accuracy of the setting, since I have no way of judging that. Maybe if there weren't a pandemic I could have tried to visit these 4 countries before writing this post, but that isn't an option now. Anyways, on to the recommendations!
Setting: Egypt
This book is about Caroline, who moves with her family to Egypt for a year, since her mother is opening up an eye clinic in Cairo. In general, I thought this book was fantastic, but the setting particularly stood out to me. I feel as though there are some books I've read where I don't get a sense of what it's like to live in that place, but that was not the case with this book! Even though I read it 3 years ago, there are so many aspects of the culture, the food, and the people the still stick out in my memory. I remember loving so much about this book, and I'd definitely recommend it for the unique setting alone! Plus there's a cute romance in this one if I remember correctly!
Setting: Qatar
Love From A to Z definitely has a cute romance! I read this book last year and absolutely adored it! It tells the story of Zayneb who goes to live with her aunt for spring break in Qatar. There she makes some friends and explore the country and the culture. This book has great disability rep, and from what I can tell, great Muslim rep as well! I think this book also had one of the most satisfying endings I've ever read, so if you're looking for something that ends happily, I'd pick this one up!
Setting: Antarctica
I honestly think this is one of the most unique contemporary settings I've ever read about. I mean, can you come up with another book that takes place in Antarctica? This one follows a ballerina named Harper that needs an escape, so she ends up in Antarctica. She's a descendant of one of the first explorers of the South Pole, and you get to learn a lot about the continent as you follow Harper's story.
If that wasn't enough to convince you then let me just mention that this book is by the same author as What I Carry, which is one of my favorite books of 2020 so far! (Thank you Goodreads for helping me make this connection.)
Setting: South Korea
Almost American Girl is a book that I read just a few months ago. It's a graphic memoir about Robin Ha's transition from Seoul, South Korea, to Alabama, USA. Since this is a memoir, you get the personal details from Robin about how different the two countries are. What I find mot interesting about this book Is how Robin's perception of South Korea changes from when she was a child living there, to when she goes on a return visit years later.
So there you have it! Even if you can't travel right now, you can still discover new places through these four books. These were each books that I really enjoyed, but the setting just made my reading experience a little more exciting! I'd love some recommendations for other books that take place in places other than the US, if you've read any that you enjoyed recently. I've been in my house for the past two months and could use a change of scenery!
What books have you read featuring books from different countries? Have you read any of these before? Where's the most exciting place you've traveled? Do you know your geography?