Disclaimer that this post will be a mess. A rambly mess with almost no point to it, to be specific. But I've been kind of slumpy with blog hopping and reading recently, so I wanted to produce something, even if that something is a messy pointless post!
Every now and then I see people sort of "fancast" themselves into their favorite books, and while that's all good and well, I think that if I ever did that I would probably just die in all the books I like. This is in part due to the fact that most of my faves are fantasy, but also, I have zero self preservation skills and am incredibly lazy. So survival isn't really something that would be seen in my future if I ever were to magically be transported into those universes.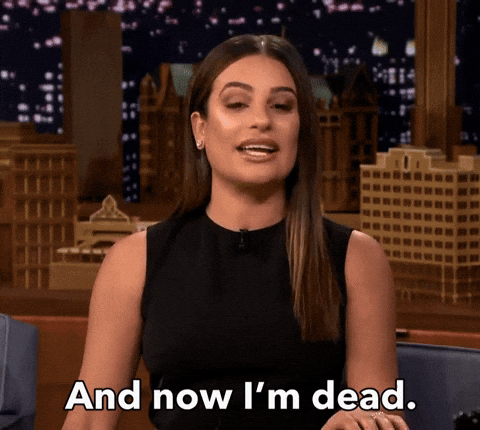 Anywho! I thought it would be a fun exercise to explore a few books that I would definitely perish in! Whether because of my own stupidity or just plain rotten luck.
(also apologies for the formatting of this post. my last post was formatted the exact same way and I wanted to switch it up to not be boring, but I kind of like how it looks neat with the books and words next to each other and currently can't think of another way to lay it out, so oops)
The Poppy War
First of all, if I were in the Poppy War I would most probably be a brainwashed disgusting colonizer because I am ~ white ~. In which case, I would probably kill myself. Now, if I didn't kill myself, I would gladly be slain by Rin (or any other Nikan soldier). If you think that you would survive The Poppy War, I commend you, but I'm also a little bit afraid of you.
To be fair, based on the initial reactions to TBG I don't really think that anyone is going to survive The Poppy War series. And yes I am talking about both the characters and readers.
---
The Lightning Thief
You could probably survive The Lightning Thief! Is what you might be thinking right now. But no! I would not survive The Lightning Thief for the following reasons.
1. If I were a half-blood I'd still use a cell phone and would attract many many monsters
2. If I wasn't a half-blood I'd definitely be one of the dumb mortals who gets in the way of a monster attack
Honestly, the only way that I would survive The Lightning Thief were if I were somehow trapped at the Lotus Hotel. Which is something I think I'd really enjoy and would be open to!
---
Gideon the Ninth
There's no question that I'd be dead in this book. I mean, it's literally about necromancers?? There are a whole bunch of these skeletal servant things throughout the book, and since I am a fantastic cook (I know how to make eggs and pasta, master chef watch out), I would obviously be an integral part of the kitchen and serving staff.
Also, I'm great at being silent and standing in the background. (Is this turning into a resume to be hired as a member of the skeletal undead serving staff in Gideon the Ninth? Yes. I told you this post would be a mess).
---
Caster
It was just announced yesterday, so I have to express my excitement here that Caster is going to be adapted into a movie by paramount pictures!! This book has dangerous gangs and illegal magic that have repercussions if used. So I obviously would be caught up in one of the accidents that may occur as a result of magic being used.
It's tragic, but that's life. I would like to survive long enough to witness the underground magic fight club but after that happens, it's fair game.
---
The Fifth Season
I read this book last week and have to start by berating past me for taking so long to pick up an N.K Jemisin book. I loved the writing and the worldbuilding and I can't wait to finish the series! One good thing about waiting until now to read it is that the whole series is already out!
The Fifth Season kind of tells the story of the end of the world. It starts with a cataclysmic world ending event that decimates at least 1 very large city and more than a few small villages. I don't think I would die in the first wave of the end of the world (I have a little more self confidence than that), but I would probably do something dumb and detrimental to survival in the after effects of it all.
This post could go on for a while (I have many Goodreads tabs open with all the books I would perish in), but I'm not going to make anyone suffer anymore. To summarize, I'd probably die in all of them because all these books have much death, violence, and war.
I would like to know what books you think you could survive in! I'm not going to say that contemporaries are a given, because you never know what might happen, but in keeping your answers in the SFF genre, what books would you survive?
What are some books that you think you wouldn't survive? Do you think you would have more luck than me?