Did we make a whole discussion post complaining about tags and then continue to post multiple tags? Yes! Mandy & Sha @ Book Princess Reviews created this amazing co-blogger tag and we just had to do it! So it's time for you to find out who is most likely to……
READ A ROMANCE NOVEL?
Malka:
Me, definitely. I mean, just look at any of our monthly wrap ups. I read at least 2 or 3 romances in each one, whereas Chana maybe reads one a year.
Chana:
Hahahaha, 100% Malka. No questions asked.
EMBARRASS THEMSELVES AT A MEET AND GREET?
Malka:
Myself. I've been to several meet & greets and book events, and I feel as though I embarrassed myself at most of them, soooooo. It's canon.
Chana:
Malkaaaa! Of the two of us Malka is definitely more likely to actually try and say something to the author (because she is the braver one) which makes the odds of her embarrassing herself all the more likely. I just silently hand over my book for signing and then slink away like a coward.
FLY TO ANOTHER COUNTRY FOR A BOOK EVENT?
Malka:
I'm going with Chana because she's traveled to way more countries than I have. So I think she'd be quicker to jump on a plane to head to a book event than me.
Chana:
I'd say Malka. I do love travelling, but the idea of visiting a country *just* to go to a book event seems to fall within Malka's jurisdiction.
BE A DRAMA QUEEN?
Malka:
Myself. I think we can both be drama queens, honestly. But I still believe that I freak out more over any minor inconvenience and therefore chose myself as an answer.
Chana:
Malka! Her name literally means Queen, so I don't stand a chance with this one.
HOLD THEIR BREATH THE LONGEST?
Malka:
Chana! I can barely breathe normally in the best of times because of allergies. So I think Chana can definitely hold her breath longer!
Chana:
Chana. Malka always walks around with an inhaler (especially at book events with lots of walking), so I think it's a given that I'd hold my breath for longer.
OWN A ZOO?
Malka:
Chana – I like specific random animals like hedgehogs, and quokkas, and sloths, but I don't like animals enough to own a zoo. Chana on the other hand wants to become a cat lady, so she is planning on having a zoo of some sort already!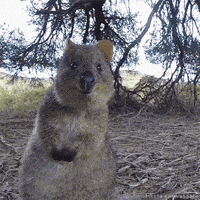 An adorable quokka
Chana:
Chana. I do think that if any of us were to make a spur of the moment ridiculous purchase of a zoo sometime in the future it would probably be me. Though I would much prefer to own a nature preserve than a zoo.
SPEND ALL THEIR MONEY ON BOOK MERCH / BOOKS?
Malka:
Chana/Malka – It honestly depends on which side of the slash you're asking. We wrote a whole post on bookish merch where we discovered that Chana is a sucker for candles, and therefore a bigger fan of merch in general, since I don't buy merch besides book sleeves. (And the last time I bought one was over a year ago.) But as for books, since quarantine started I've been buying lots of books, whereas Chana has maintained some self control. So my final answer is Chana for merch and myself for books!
Chana:
Hmm Malka! I used to be very into getting bookish merch but then I realized that I don't really have a use for any of them so I stopped. (I have not purchased a bookish candle in over a year, this is a huge accomplishment for me, I will accept congratulations at the door). Malka has been buying a lot more books recently, so that's why I chose her for the answer.
BREAK A WORLD RECORD?
Malka:
Chana – Chana is definitely the more interesting and talented of the two of us. I mean the girl can play an instrument, and draw, and write, and just generally succeed in anything she sets her mind to do. I have no doubt if she wanted she could break a world record easily.
Chana:
Malka – I think that Malka will definitely break a world record in the future, whether it's a science related thing or book related! Malka's super driven and hard-working, so it's really only a matter of time.
BE THE KINDEST PERSON IN THE WORLD?
Malka:
Malka – Is it terrible that I'm choosing myself? I feel like if I were truly kind I'd pick Chana. So maybe I'm not kind?
* please stand by while Malka has an emotional crisis *
Chana:
Malka! I think that Malka is definitely the nicer of the two of us. She's also always thinking of others and trying to think of different ways she can help other people out! My own mother thought I was a monster…she was right of course, but it still hurt. 
**disclaimer that this is a quote from ATLA and my mother would like everyone to know that she loves me very much**
LAUGH AT THE WRONG MOMENT?
Malka:
Malka – I do this all the time! When I'm uncomfortable one of my gut reactions is to laugh, and unfortunately I've laughed at some pretty inappropriate times because of this!
Chana:
Malka – Malka is a laugh in uncomfortable situations type of person, while I am an eternal resting bitch face type of person (we balance each other out).
READ EVERY BOOK IN THE SCHOOL LIBRARY?
Malka:
Chana – This was a tough one, to be honest. I went with Chana specifically because it said school library. If it just said library, I'd say myself, because my library is pretty small, and I've already read a good chunk of the children's and YA sections. But Chana is a faster reader than me, and interested in way more genres, so I think she'd be more likely to finish every book in a school library.
Chana:
Chana- I feel like I'd be more likely to do this because I'll read pretty much anything even if I know it's going to be garbage beforehand. I feel like Malka would read every book in the library that she knew she would like though!
GET STUCK IN A SWING?
Malka:
Malka – I'm not very coordinated, so I could definitely see something like this happening. But I also love swings, so even if it happened, that wouldn't stop me from using a swing again!
Chana:
Malka I guess? I do think that I am equally clumsy but I don't really see myself near a swing anytime in the future.
FALL ASLEEP WHILE READING A BOOK?
Malka:
Chana – It takes me forever to fall asleep, and I always can tell when I'm getting sleepy and put the book down ahead of time. I don't think I've ever fallen asleep while reading a book. Chana on the other hand can fall asleep pretty immediately, so I feel as though she's more likely to fall asleep while reading.
Chana:
Chana – I have the ability to fall asleep almost anywhere, so falling asleep while reading a book wouldn't be very hard for me.
We tag Sabrina & Vera @ Wordy & Whimsical and any other co-bloggers out there to try out this tag!
Have you ever fallen asleep while reading a book? Do you like to buy lots of bookish merch? Would you fly to another country for a bookish event?