This year my top two most read genres are contemporary and romance, to no one's surprise. But as much as I read romance and gush about my favorites in tags, wrap ups, and occasionally reviews, I haven't really written a discussion post about my relationship with the genre in my two years of blogging. So today I wanted to take the time to break down my relationship with the romance genre, and talk about how reading romance has impacted me!
A summation of my thoughts on the romance genre
So let's first start with how I got introduced to the romance genre. I was 12 years old, and I had received a Kindle for my birthday. Having no money to buy e-books with, and not yet aware of e-book libraries, I was searching through the free Kindle books, and I discovered my first adult romance. But since I was just scrolling randomly through free books, I couldn't really hone in on the tropes I liked, and I eventually abandoned the genre for a while. But about six or seven years ago, I returned to the genre and started figuring out what I liked. Of course, this required lots of trial and error, but I didn't mind.
See for me, I came back to the genre as a mindless way to relax. I wasn't thinking much about the plot or the characterization or the writing. As long as there was a romance with a happily ever after and some steamy scenes thrown in for good measure, I was happy. So I didn't mind that most of the books I read were 3 star reads, a rating that for me means neither here nor there. Three stars was the perfect rating for the purpose I was reading. I wanted something light and easy to process when I was having a bad day. The book didn't need to be memorable or unique or in any way special to achieve that goal. But then two things happened: I became a more critical reader, and I started learning which tropes worked for me and which certainly did not!
Live footage of me snuggling up with a romance
One of the most important things I learned was that I dislike drama. While I don't mind conflict in books, miscommunication, or betrayals, or any sort of other plot device inserted just for the drama gets an absolute no from me. On the other hand, I learned that I loved fake dating, since it gives the romance a chance to develop in a very natural way! Plus fake dating tends to get steamy faster than most other tropes. It can also include the "only one bed" trope since the two of them are pretending to date. Basically, fake dating is a trope that works for me on many levels. (I could write a whole post on that topic alone, but I'll leave that for another time.)
But more importantly I learned that some romance tropes are problematic. I learned how to recognize when possessive behavior becomes abusive, how to look for consent and whether that's something that's even mentioned, how to see when tragic backstories are used as plot twists and with no respect for the people that may have gone through whatever trauma the author chose to include. There are many books that I read in the past, that looking back I would hate to read today, and that goes for any genre really. But I think I started recognizing these problems the most in romance because of how glaring these issues can be.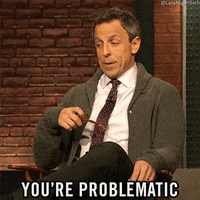 As for why I haven't really talked about my journey with romance, and how it made me become a more critical reader, the answer is simple but sad. There is a major stigma around romance and for a long time I bought into it. I was ashamed to read books with shirtless men on the cover, I was embarrassed to let people know that I liked books with smutty scenes. But after gaining so much from the genre, both in terms of enjoyment and as a critical reader, I'm no longer ashamed. I'm a romance reader and I'm proud of it! The genre has a lot to offer people, and I'm glad that more readers are starting to take note!
I've mentioned this before in my post about judging books by their covers, but I think that the rise in illustrated covers has done wonders for the romance genre. People are picking up books like Red, White, & Royal Blue or The Kiss Quotient, and learning that they might like the romance genre after all! My hope is that these new romance readers will end up having the same wonderful experience that I've had with the genre, and that the stigma surrounding romance only continues to dwindle!
Do you read romance? What are your favorite genres? What genre made you a more critical reader?