Welcome one, welcome all to our June Debate It! If this is your first time reading one of these, you can find a list of all our Debate Its here! The Debate It's have been a monthly post on our blog for the past 6 months, which is totally crazy to us! We're fast approaching our 1-year blogoversary, which means that the Debate Its have been a part of our blog for half of its existence! This Debate It in particular is a discussion-debate hybrid in which we compare what conditions we need to finish a book and how easy it is to distract us when we read!
Malka: Recently I mentioned to Chana that I felt like one sitting read must just be an expression. Because surely no one can sit in one place and finish a whole entire 300-page book. But apparently, I was wrong. Because in fact, Chana is one of those people who sits down and reads an entire book. My question is HOW?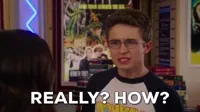 Malka's reaction when she learned that one sitting reads are a literal thing
See, it's not all about the size of the book to me or the speed that I read. Because I cannot even recall finishing graphic novels, which I can read pretty quickly, in one sitting. I fidget too much! I go on my phone. I go to use the bathroom. And once I take my focus off the book, I easily get distracted, and may not come back to the book until hours later. And I know that I probably have read something in one sitting, without getting distracted, but I genuinely can't think of a single book off the top of my head.
And while we're at it, why don't we throw speed into the mix. The most likely thing for me to read in one sitting is a graphic novel or comic precisely because of the reading speed factor I mentioned. I believe I used to read faster, which is a whole other discussion post that has yet to be written, but regardless, I can no longer finish a 300-page book in an hour or two. And who can sit still for even an hour?
Chana: So here's one thing I would like to clarify first. I don't read books in one sitting on purpose. What usually happens is that I'll start a book and it will all be nice and normal at first. And then flash forward an hour or two and I'm at the last page of the book. If a book is good I can get so immersed in it that I'll block out everything else. I also have an annoying habit where if I don't finish a book in one sitting, it will probably take me months and months to finish it.
Back in the day, I used to focus my attention on only one book at a time, but nowadays, when I have so many amazing books on my TBR, it's hard to stay focused. Which means that I'm usually reading at least 5 books at once. This means that if I don't finish a book in one sitting, it'll probably stay on my currently reading shelf forever (this is one of the reasons I don't add books to my currently reading unless I'm 50% through it. I wouldn't be able to stand the shame.)
I'm also really good at blocking things out. This means that when I am reading, nothing exists besides me and my book. I'm one of those weirdos that listen to music while reading because my brain is able to hear the music but also block it out at the same time? Ever since I was a kid I've been reading books in one go, it's just more convenient for me and otherwise, I drown under the sea of currently readings.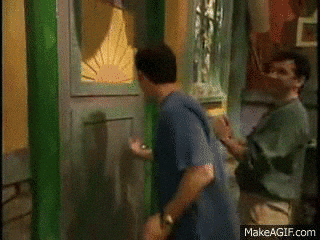 All my currently readings piling up on top of me
Malka: While Chana may be good at blocking things out, I'm quite terrible at it. I have a pretty difficult time reading unless it's absolutely silent. Or unless the sound I hear isn't loud enough for me to process. So if I can hear a conversation going on, I won't be able to read, but if that same conversation is going on at the same noise level but I can't understand the words, I might be able to read. I say might because the noise level makes a difference too. As you might imagine this makes it really difficult to read. This sensitivity to noise has gotten worse recently, and I'm around more noise in general now, so at this point I'm often distracted from my reading.
How it feels every time I try to read with noise
If I start reading something and someone comes home and starts making noise and talking on the phone, I will have to stop my reading. And in general, people have a nasty habit of interrupting my reading. There have been countless times when I've been called down to supper or asked an opinion on something while I'm trying to read. After a while I give up on reading a book until the person stops pestering me, which can take a while, and again, I usually get distracted once I put down my book, so even if I'm only bothered for 15 minutes, I probably won't return to my book afterwards.
My last reason that I think I don't read in one sitting anymore, is because I no longer have a good place to read. Sure, I have my bed, but the mattress is highly uncomfortable and I have to keep changing positions. After a while, I have to stretch and take a walk, and you guessed correctly, I get distracted! I used to have this big armchair I'd curl up in that I call Comfy Chair, but Comfy Chair got moved to the cold basement, far away from my room, so I rarely read in it anymore. But when I read in it years ago I was able to read for much longer periods of time. Alas, those times are now gone.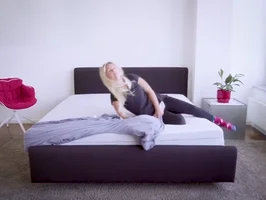 Malka trying to find a comfortable reading position on her bed
Chana: That's something else I don't really have trouble with. I'm comfortable reading almost anywhere, I love reading on the floor and in all sorts of sitting positions. One thing I'm super proud of is how one Saturday, I sat on a couch in the same position for 8 hours straight! Regardless, I totally get how at times it may be hard to focus on reading. My little sister (she's 11 wonderful years old) loves asking me questions while I'm reading. Which at times can be super annoying, since it's a bit difficult to focus on reading when someone is asking you questions, but it's also been super helpful in helping me block out things while reading.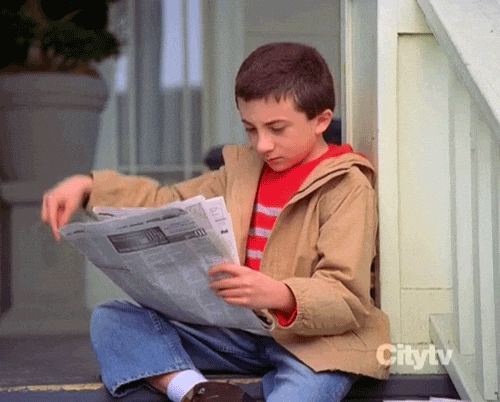 Me @ my little sister anytime she tries to talk to me when I'm reading
I guess that at the end of the day, it's each to their own. I get that it's sometimes super hard to focus on reading when there are other things going on, but as long as we read what we love, it doesn't matter how many sittings it takes to read a book.
Are you more like Malka or Chana? Can you finish a book in one sitting no matter where you are? Or do you need a more focused environment like Malka?