Hello friends! For a while now I've been wanting to do a blog post on how I blog hop, but something hasn't felt quite right. Sure I could share with you how I find new blogs, and I will, but I just kept feeling that I was missing a key element that was relevant to my blog hopping. And while blog hopping today, it hit me. The reason the post never felt right is because I was focusing too much on HOW I blog hop, instead of WHY I blog hop. Now, you may think you know the answer to that question, but I have a feeling my answer may surprise you. I'm about to expose myself, because you see, I don't just blog hop for altruistic reasons. Sure, I enjoy finding interesting discussions and fun catch up posts to read, but in truth, I have an ulterior motive when I blog hop.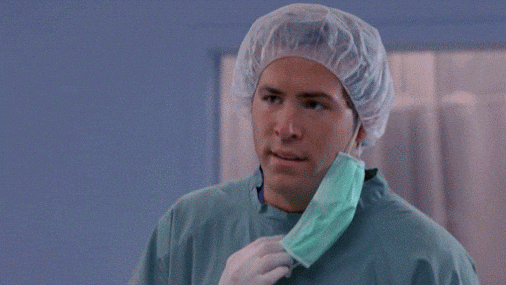 While I try to keep up with the blog posts from those that I follow, when I refer to blog hopping, I'm talking about when I go on a hunt to find new to me blogs. These can be established blogs that have been around for several years, or super new blogs that have less than 50 followers. My method is the same, I'll go on the WordPress reader and search "books", click on some of the top blog results, and then look through who has liked recent posts. When I find a name I don't recognize, I open their home page in a new tab, and I keep scrolling until I have several tabs open for me to read through. From there the process remains the same. I read some blog posts, then look at who liked the post and keep following the trail until it fizzles out of new blogs for me to visit. I don't like or comment on every blog that I open, but if I do like or comment it means I read that post through fully and want to let the blogger know that I was there.
Me when I like or comment on a new blog
Great. So know you know the HOW of blog hopping for me. But now it's time for me to reveal why I blog hop. Because as much as I wish I could say it's only to support other bloggers, to be honest, what motivates me to blog hop is the fact that my stats will inevitably pick up after I go on a blog hopping spree. Some of these new blogs that I just visited will visit me back! Some will even follow me! It's truly a great way to grow your reach as a blogger.
Now, I know many other bloggers have mentioned blog hopping as a great way to gain interaction. In fact in this recent post that Marie wrote, one of the seven methods she listed to gain blog traffic was blog hopping. Which begs the question then. Why do I feel like I'm doing something wrong? Why does the fact that I know that my blog might gain a few views from this blog hopping spree make me feel like I'm a bad blogger for not blog hopping for the sake of just visiting other blogs? Is it because I'm hoping for something in return? It might be, but honestly I just really want to share my blog with other people, and I'm actively trying to get them to come say hi on my blog. Is that so wrong? Maybe I feel guilty that I don't follow many of the bloggers I find when I blog hop? But just like no blogger is required to visit, like, or follow my blog, I'm not required to like, comment on, or follow any of the blogs I find either!
So here's my challenge to you! To those of you who haven't blog hopped in a while and are waiting for motivation to do so, here's your motivation. You don't need to have purely altruistic reasons when you blog hop! You'll still be achieving the same end result of finding new blogs and interacting with them, even if you're hoping for some interaction in return! My one caveat to this all though, is that you should be genuine in your interactions. Only like a post if you've read it. Only comment if you have what to say. Only follow if you intend to continue following that person for the foreseeable future. Hopefully this new spree of interaction will end up with you forming some new friendships! And regardless of whether you get that interaction in return or not, just know that you definitely made somebody's day by choosing the visit their blog today!
Why do you tend to blog hop? How often do you blog hop? Is it wrong to hope for interaction in return for your blog hopping?