Book: First Love, Take Two by Sajni Patel
Source: I received a copy from NetGalley and the publisher in exchange for an honest review.
Publisher: Forever
Release Date: September 21st, 2021
Pages: 336
---
This post contains affiliate links to Bookshop. If you purchase a book using this link we will make a small commission at no extra cost to you!
---
Goodreads // Bookshop // Amazon // Book Depository // Barnes & Noble
---
First Love, Take Two was a book I took a chance on. I normally don't enjoy second chance romances, but since this had the additional trope of forced proximity, I figured that this might still be a book that I enjoyed. And I'm really glad that I gave this one a chance.
This book follows Preeti whose roommate just got married, leaving Preeti needing to find a new place to live quickly before her roommate returns from her honeymoon and her new husband moves in to her old place. Unfortunately, she's out of time and options when a friend offers her place for a few months. There's just one catch. Preeti's first love and ex, Daniel, is going to be living there too. Preeti broke his heart six years ago, but Daniel is determined to find out why. And since the two of them are now living together, there's also the potential for them to get back together, as long as they can ensure that the mistakes of the past aren't repeated.
Let's start with what I liked! Firstly, I was very happy to see a woman who loved her career despite the many challenges it presented. Preeti is a doctor, in fact she's the chief resident at the practice that she works at. She has to deal with crazy hours, heaps of responsibility, and many difficult cases and patients because of this. But despite the toll it takes on her, Preeti never doubts her ability as a doctor, or wishes she had chosen a different career. Many times work is a point of conflict in the book, and while being so busy with her job definitely complicated matters, I appreciated how Preeti's career was never villainized.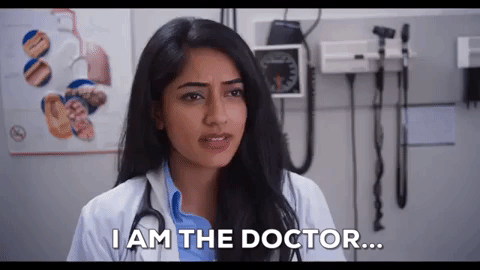 I also greatly appreciated the topics that this book dealt with. Since this book featured an interracial couple from different socioeconomic circles, there were a lot that these two had to contend with. Racism, distrust, unworthiness, all that fun stuff. This was honestly the strongest aspect of the book for me. Neither side was blameless, with cultural clashes from both sides. But eventually these issues were addressed and faced head on and I was very happy that the book never skirted around these issues. Preeti and Daniel may have loved one another, but hate won out the first time they were together. That hatred was very clearly portrayed, and the growth of each character over the past six years that allowed this second chance at a relationship to be possible was clearly there as well.
Mental health was another big aspect in this book. Preeti suffers from anxiety and depression, but is hesitant to get help because of various stigmas from the communities she's a part of. There was definitely a lot of growth in this area throughout the book, which was fantastic. It also was wonderful to see how Daniel dealt with Preeti's episodes as it helped to show the care and understanding that he had for her.
However, for the most part I just didn't feel for the romance. There were a lot of build up moments, but very few cute moments. Usually any tender moments were in the aftermath of something sad or difficult. There were no standalone soft moments that the two of them could fully enjoy together. And for as much as Preeti is thirsting over Daniel and is still in love with him all these years later, I just didn't understand. It felt very tell not show, especially when it came to the steamy parts. Meaning that there were no steamy parts, because as much as Preeti fantasizes about Daniel , the reader never gets to see that come to fruition. The jokes her friends made were more risqué than anything Preeti and Daniel ever did on page.
And speaking of, while I appreciated that Preeti had such a close group of friends, I didn't really feel like they were fully fleshed out, and I feel like I would have enjoyed them more if they were. However this was a problem in general for me as I didn't get attached to any of the characters, even the main characters, which is probably why it was hard to ship the romance with all my heart.
Additionally, there also were some portions where the writing felt a bit disjointed, although of course that could just be the fact that I was reading an ARC and not the final version. However, even despite that I found myself captivated by the story because there was a lot going on, and while this isn't a new favorite romance, I definitely would recommend reading it for the many other aspects that this book discusses so well.
However, I want to mention that the fact that this was one of the few second chance romances that I felt was handled well. The reason for the separation made sense. The time spent apart from one another helped both characters develop, and they were changed and ready to get back together at the beginning of the story. Normally I can't forgive whatever pulled the couple apart in the first place, but I was pleasantly surprised to find myself still rooting for these two despite the mistakes that were made.
3.5 STARS
All in all, I gave this books 3.5 stars. I enjoyed my time reading and appreciated the many conversations it had, but it's not a new favorite. However, if you want to read a book featuring a second chance romance with some forced proximity, that also deals with some more complex topics, this would be a great read for you!
Have you read this book? Do you plan on reading it? Do you enjoy the second chance romance trope? What's your least favorite romance trope? What book did you enjoy despite it having a trope you don't typically enjoy?