A few weeks ago I had the opportunity to read The Shadow of the Gods by John Gwynne, and oh my god that book completely blew me away!! Inspired by Norse mythology and packed to the brim with well developed personable characters, Shadow of the Gods is a must read.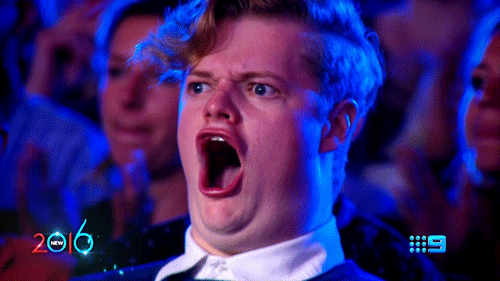 Now you might be getting the drift that I enjoyed this book (just a little bit) so imagine my surprise and excitement when I found out that I had the opportunity to ask John Gwynne some questions about his new book!! (I was high-key freaking out, no imagination required for that imagery). Anyways, enough about me, it's time to get into the interview!
John Gwynne is the author of The Faithful and the Fallen quartet and the Of Blood and Bone trilogy. He studied and lectured at Brighton University. He's been in a rock 'n' roll band, playing the double bass, traveled the USA and lived in Canada for a time. He is married with four children and lives in Eastbourne, running a small family business rejuvenating vintage furniture.
Hi John! Thank you so much for being here! The Shadow of the Gods constructs a vivid world inspired by Norse mythology. While fantasies inspired by different types of folklore are fairly common nowadays, Norse inspired fantasies are not something you see every day. What inspired you to write a series inspired by Norse mythology?
Hi Chana, thank you for the invite onto Paper Procrastinators, it's lovely to be here. The original seeds for writing this new series were sown when I was a child and fell in love with those tales from Norse mythology about Thor, Odin, Loki and the gang. I was probably ten or eleven years old when I entered that particular rabbit hole, and I can remember clearly reading about Beowulf, Grendel and a very big dragon, and absolutely loving it. Dig a little deeper into that Norse mythology and you come across giant serpents, berserkers and talking wolves, all the cool stuff. I think all of those tales had a marked effect upon my impressionable young mind.
The Shadow of the Gods, a Norse Inspired Fantasy by John Gwynne out May 4th
Alongside always being a reader and lover of fantasy and mythology, I've also been a lover of history and have always found the Viking era fascinating. That love of the Norse sagas and their history has led me to picking up a shield and spear as an adult and becoming a Viking reenactor.
So, you see, this series has probably been about forty years in the making, condensing my love of Norse mythology and history, and mixing it up with my imagination and love of the fantastical.
What was the most interesting thing you learned while writing this book?
Ha, I came across so many weird and wonderful things whilst researching this series. One of the most fascinating, or perhaps the most disgusting, was reading about a creature in Scandinavian folklore called a Spertus or Spiritus. They are insect-like creatures that live in streams with segmented bodies, human faces and nasty stings in their tail. But this isn't the fascinating/disgusting part. They like human spit for their breakfast.
Of course, once I read this, I knew a spertus had to be in my book, but somehow, over time, the human spit wasn't enough, so I escalated that to human spit mixed with a drop or two of human blood, all dripped and stirred into a bowl of porridge.
I absolutely loved every aspect of the book, but one thing that stood out to me was how well developed and distinct each of the POV's that you wrote were. When you write how do you get into a character's head before writing them?
I'm so pleased you feel this way about the characters, Chana, and thank you for the kind words. The way I write characters can vary. With my writing I tend to come up with a rough idea for a world and plot, kind of 'the big picture,' and then characters that could tell this tale in an interesting way start to form. It doesn't always work like that for me, though. For example, taking Orka in this series, she was there from the very first moment. Or the idea of her was. I like to play with tropes, I think because I grew up on fantasy tropes and loved them, so I like to take a trope and try and freshen it up, sometimes subvert it, sometimes just try and write it in a more contemporary manner. Orka started as 'the retired person of violence,' similar to William Munney (Clint Eastwood) in Unforgiven. I remember chatting to my agent, Julie Crisp, about this idea, and somewhere during our conversation the idea of making her a woman came up, and that was it, Orka was born.
What is your writing process like? Has it changed since your debut novel?
My writing process has for the most part stayed the same. I start with a lot of research. I didn't start writing until quite late in life – in my 30's, and really it came about by chance. My daughter Harriett is profoundly disabled and my wife and I both care for her from home. I used to teach at Brighton University, but there was a period of time where Harriett was extremely ill and so I stepped out of teaching to help my wife with Harriett's care. During this time my wife suggested that I try writing as a hobby. Long story short I had a go, and began working on my first book, Malice. I had never had any kind of training or experience in creative writing, and the only way I knew how to write was how I'd been taught to write essays and dissertations at University. My tutor's mantra was always 'read, read, and then read some more!' Basically, do ALL the research. So that's how I go about writing. I research the history and mythology of periods that interest me, I research all the other details that go into creating a believable world – how swords were made, wolf pack behavior, how Viking ships were made, and so on, and I add that to the world and characters that are forming in my head.
That's kind of the big picture of how I go about my writing. On the practical side, looking at an average day, I squeeze in writing sessions between the care my daughter Harriett needs, along with the other demands of life. Usually that means two or three sessions of writing a day, usually for a few hours each time. Also, headphones are essential. I listen to a lot of music that helps me get into my 'writing place,' and cut out the household noise (there can be quite a lot of that).
Another thing that I like to do is at the beginning of my first writing session in a day I will read over what I have written the day before. I give it an edit while I'm doing this, and it just helps me to ease back into the story.
In saying this, there have been some changes in my writing process since I first started writing. The biggest one is that I wrote the first draft of my first book, Malice, by hand. Yes, you read that right. I am a dinosaur. From my second book forwards I switched to typing.
What book(s) would you recommend readers pick up after finishing The Shadow of the Gods? (all covers in the answer are linked to Goodreads)
That's a great question. If the Shadow of the Gods has given you an interest in all things Norse, then I would recommend a few books to read.
First would be Beowulf, which is the book that started it all for me. It's one of the greatest saga-poems, about a band of monster-hunters helping a jarl (earl) to rid his realm of the monster, Grendel. There are so many different versions of this, including graphic novels. I'd suggest starting with Tolkien's translation, and also the illustrated version with art by John Howe.
---
Second, I'd recommend Neil Gaiman's 'Norse Mythology.' A brilliantly entertaining introduction to the Norse gods and Norse mythology.
---
Thirdly I'd recommend 'Children of Ash and Elm,' by Neil Price. This is an excellent historical text on all things Viking-era.
---
Fourthly, I'd recommend an illustrated book by Johan Egerkrans called 'Vaesen.' It is a wonderful introduction to the creatures and monsters of Scandinavian mythology and folklore.
---
And last of all, I'd recommend 'The Longships,' a novel about Red Orm and his Viking adventures, written by Frans G. Bengtsson. I loved it.
I'd like to thank John once again for taking the time to answer my questions!! The Shadow of the Gods is out now, and I highly recommend that you all check it out!
This post contains affiliate links to Bookshop. If you purchase a book using this link we will make a small commission at no extra cost to you!
---
Goodreads // Bookshop // Amazon // Book Depository // Barnes & Noble
Book: The Shadow of the Gods by John Gwynne
Series: The Bloodsworn Saga
Publisher: Orbit
Release Date: May 4th, 2021
Pages: 496
Synopsis: After the gods warred and drove themselves to extinction, the cataclysm of their fall shattered the land of Vigrið.

Now a new world is rising, where power-hungry jarls feud and monsters stalk the woods and mountains. A world where the bones of the dead gods still hold great power for those brave – or desperate – enough to seek them out.

Now, as whispers of war echo across the mountains and fjords, fate follows in the footsteps of three people: a huntress on a dangerous quest, a noblewoman who has rejected privilege in pursuit of battle fame, and a thrall who seeks vengeance among the famed mercenaries known as the Bloodsworn.

All three will shape the fate of the world as it once more falls under the shadow of the gods . . .
Have you read The Shadow of the Gods yet? Are you a fan of Norse mythology?