Book: Act Your Age, Eve Brown by Talia Hibbert
Source: I received a copy from NetGalley and the publisher in exchange for an honest review.
Publisher: Avon
Release Date: March 9th, 2021
Pages: 400
---
This post contains affiliate links to Bookshop. If you purchase a book using this link we will make a small commission at no extra cost to you!
---
Goodreads // Bookshop // Amazon // Book Depository // Barnes & Noble
---
After reading the first two books in the Brown Sisters series, I was excited for Eve's story. Then when I got an ARC, after initially freaking out with excitement, I was left with the decision of when to read my early copy. I lasted 2 months before I caved when I needed a cute book. I knew this would fit the bill, and I was not disappointed!
This book was so cute that I resembled Patrick by the time I finished reading it
What's this book about, you ask? It's about Eve Brown, who after she gives up on yet another career path, gets an ultimatum from her parents. She's getting cut off from her trust fund until she can hold down a job for a year. When Eve interviews for the first position she finds, things don't exactly go to plan. After all, running over your potential future boss isn't exactly the tip that most people recommend when you're searching for a job.
There were so many things that I loved about this book! First of all, this is one of my favorite grumpy/sunshine pairings that I ever read about! Eve just enjoys life so much, and I loved reading from her perspective. But Jacob is probably the character that captured my heart. He is a grump, but underneath all that he cares so deeply. He cares about his friends, his Bed & Breakfast, and of course, Eve.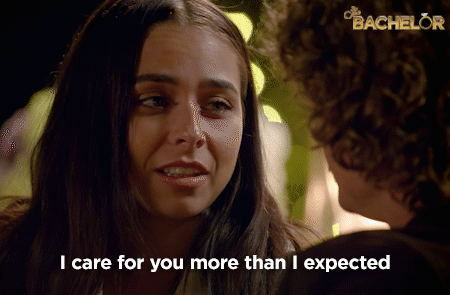 It was great that we got to read from both Eve and Jacob's perspectives, because even though they were so different, they were very similar in many respects. It was also great to see how being around one another slowly helped them recognize the best parts of themselves, that they were ignoring up until the other brought it to their attention.
They also do the sweetest things for one another, and I was so there for it. I kinda don't want to spoil it because it was so heartwarming to read about, but just know that these two really listened to the other about what they wanted and what they needed and then did their best to provide that for the other. The sweet things they did for one another was part of what made me fall so hard for their romance. You could really tell they cared about one another.
Jacob convincing himself that Eve and him are just friends
They're also quite solid with communication. Both of them aren't very filtered to begin with, but they also make a point to talk through different issues and it was so very refreshing. Oh, and can I just applaud Jacob for his excellent understanding of consent! It's rare that you get to see such excellent consent in romance, so I wanted to mention that this book does it well!
There really was only one thing I disliked about the book, and that was the drama at the end. It felt very over the top, and extremely unnecessary. I can see several ways the conflict could have played out where I would have enjoyed the story more. But honestly, this is something I struggle with most romances, so I'm not going to hold it against the book too much. Especially since the book is still fantastic!
4.5 Stars
Overall, I'd definitely recommend this book! It has great autistic representation, wonderful friendships, an adorable romance, and a grumpy/sunshine pairing to warm your heart! I even reread my favorite parts closer to the release date because I wanted to re-experience all the cuteness!
Have I convinced you to read The Brown Sisters Series yet? What's your favorite grumpy/sunshine pairing?