Book: A Desolation Called Peace by Arkady Martine
Series: Teixcalaan
Source: I received a copy from NetGalley and the publisher in exchange for an honest review.
Publisher: Tor Books
Release Date: March 2nd, 2021
Pages: 496
---
This post contains affiliate links to Bookshop. If you purchase a book using this link we will make a small commission at no extra cost to you!
---
Goodreads // Bookshop // Barnes & Noble // Book Depository // Amazon
---
So for this review I want to do it a littttle bit differently because I want to review this book without somehow spoiling the first one. The first book in this series, A Memory Called Empire, is absolutely fantastic. And I don't want to spoil the ending of that one for anyone who hasn't read it yet!
So I've decided that instead of mentioning specific plot points from A Desolation Called Peace, I'm going to talk more about the characters and assign gifs that I think fit them! If you would like to see a more spoilery review that discusses specific plot points, you can check out my Goodreads review here.
The Teixcalaan books take place in the far future in the (incredibly) far reaches of space. An Empire called Teixcalaan rules over most known planets, satellites, and settlements. The empire of Teixcalaan is everlasting and reaches out almost infinitely. One of the most interesting parts of these books (imho) is Teixcalaan culture itself. The culture of this empire revolves almost entirely around poetry and literature and has a strange sort of fascination with the separation between civilization and barbarians. In which anything or anyone that is not a part of the Teixcalaan empire is a barbarian.
Now for the characters! The characters in these books are fantastic, and a great thing about book 2 was that it opened up a lot more POVs that weren't there in book 1.
Mahit Dzmare
The series focuses on one barbarian in particular, Mahit Dzmare, who was sent from her home satellite Lsel, as an ambassador to Teixcalaan. The first book focuses almost entirely on Mahit, which was fantastic, since she is a well developed, brilliant character who is a pleasure to read about. She has a talent for constantly being in the middle of intricate political drama, both on her home Lsel station, and in the heart of the empire, Teixcalaan. I feel like a gif that represents her very well is one that shows chaos and fake calm.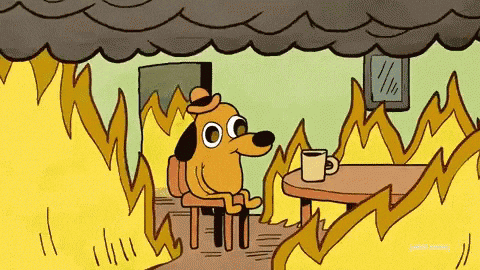 Three Seagrass (aka Reed)
One of the most notable new POVs we get to read from is that of Three Seagrass (aka Reed). I think this worked to help develop Mahit and Three Seagrass's relationship significantly. It was also very interesting to see into Three Seagrass's motivation's and emotions. Three Seagrass works for the Information Ministry in Teixcalaan, and is a great example of what a perfect civilized Teixcalanlitzim should be like. She's small, fierce, very smart, and has a strange fascination with barbarians. Although she's nothing like Spock, I do feel like the way Vulcan's view other species is similar to how people from Teixcalaan view everyone else. Therefore, I have assigned a Spock gif for Three Seagrass.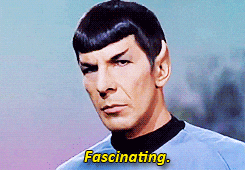 Eight Antidote (aka Cure)
Another new POV that we got in the second book was that of Eighteen Antidote. Eight Antidote is the 90% clone of the Emperor, and heir apparent to the throne. He only appears briefly in book one, but he really had time to shine in this book. I feel like I need to dedicate a good part of this review to him, because I love him so much. Eight Antidote is an 11 year old child who is just so adorable and smart and I just want everything to work out for him always. I think that this John Mulaney clip encapsulates Eight Antidotes character perfectly.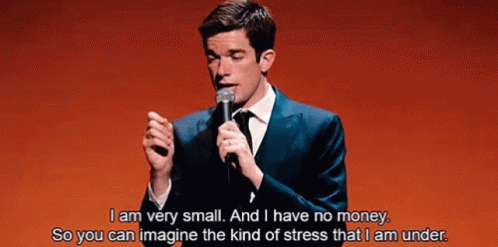 Nine Hibiscus
Nine Hibiscus is the Yaotlek of fleet something or other. From my understanding the yaotlek is sort of like the big commander? Big scary madam general. She's a new character in this book, and one that was very interesting to read about. For one thing, I enjoyed having more insight into the military area of Teixcalaan, since there wasn't much insight into that in the first book. It was also cool to see how even though Three Seagrass and Nine Hibiscus are both Teixcalaan, they do think and react differently in different situations despite the insistance that all people from Teixcalaan are perfect in the same ways. I think the following gif represents her very well, because she is scary.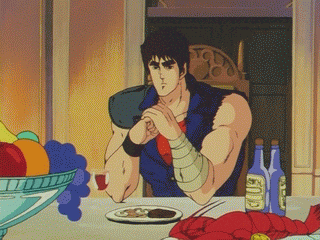 I gave A Desolation Called Peace 4.5 stars. It was a fantastic read and a great follow up to the first book. It built up on the worldbuilding and the characters in a way that did not disappoint.
Have you read the Teixcalaan books? Do you like multiple POVs? Do you prefer SF or Fantasy?