I've made it no secret that I'm a mood reader. In fact, way back when I wrote a whole post about my struggles related to being a mood reader. But one of the things I didn't mention in that post was how my mood reading can many times lead to me reading multiple books at once, and how this can sometimes affect my enjoyment of some of the books I'm reading, which can then affect my final rating.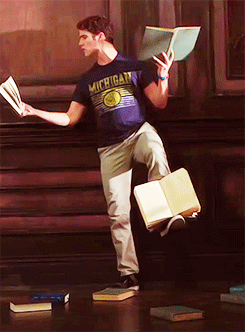 Me trying to read multiple books at once
To start with, let me just say that I am the moodiest of mood readers. This means that my mood can change by the day, or even by the hour, and that will in turn affect which book I read. So I may wake up one day, in the fantasy mood (it's happened once or twice). I start the book, and I'm enjoying it. I read 75 pages, and then I go to sleep. The next day I wake up and it's gloomy and rainy outside, with my mood to match. At that moment I am in no way interested in reading a fantasy book, which tends to be heavy and dark to me, no matter how much I was enjoying myself the day before. And so I pick up another book, this time probably a romance, and begin to read that book. Now I'm reading two books. Then I want to take a break from the romance I'm reading. I'm enjoying myself, but I want to change things up, so I start a contemporary. And so this pattern continues, sometimes with me finishing books in between, and sometimes with me just adding more and more books to my currently reading pile.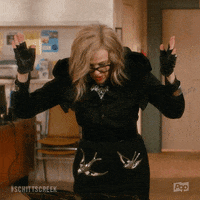 Now I don't think this way of reading would bother me so much if I didn't notice how this method negatively affects my enjoyment of specific books. But unfortunately, I think this method has a big downside. 
You see, since my mood can change so rapidly, and my interest in a book can dwindle in a snap second, sometimes it can take me a week, two weeks, a month, or even several months until I return back to a book that I put aside because I wasn't in the mood for it. Sometimes that's because I'm just reading too many books at once, and so by the time I get back to the original book I started with, it's a month later. Other times I'm just not in the mood for that book for a while. Whether because I've forgotten a lot of the plot or characters already or just because something I can't put my finger on has changed during that time period, the result is the same. The books that get pushed to the side for the longest time, I tend to enjoy less.
Me returning to a book after putting it aside for 3 months and not remembering a thing
This lessening of enjoyment can range from those books not getting 5 stars, even though I loved them, to giving what would normally be a 4 star read 3 stars because I've forgotten too much about what I loved from the beginning by the time I finish the book and rate it. Whatever the case, in these situations I'm aware that it's the timing and my mood reading that have caused me not to enjoy the book as much as I could have, and that makes me sad. But since I can't see any way to change my reading habits, I guess I'll just have to learn to live with the impacts of being a mood reader!
Are you also a mood reader? Do you ever leave books in the middle of reading them for over a month before returning back to them? Do you have any advice on how to mood read more effectively?