Book: Bookish and the Beast
Series: Once Upon a Con #3
Source: I received a copy from NetGalley and the publisher in exchange for an honest review.
Publisher: Quirk Books
Release Date: August 4th, 2020
Pages: 288
---
Goodreads // Amazon // Book Depository // Barnes & Noble // Indie
---
I really enjoyed the first two books in Ashley Poston's Once Upon a Con series and I was super excited to see that there was a third book! With this series in general, I don't think that it's necessary to read the first two books to understand what's going on. This is especially highlighted by the fact that I remembered nothing from the first two books, yet I still got what was going on!
This installment of Once Upon a Con follows Vance Reigns, the actor for General Sond in the world famous Starfield franchise, after he gets banished to a small town to escape scandal, and Rosie Thorn, who gets roped into rearranging the library at the house Vance is staying at after damaging the property. It's a beauty and beast-esque retelling, and if I had to explain the book in one word, I'd say it was cute!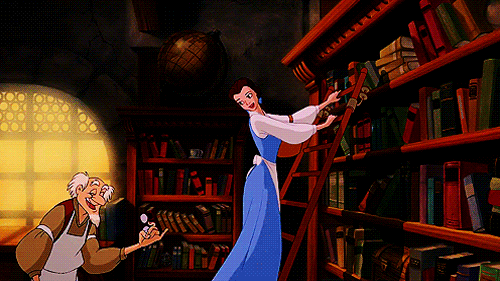 If I had to represent Rosie in a gif this would be it
The book starts out with Rosie meeting a mysterious cosplayer at ExelsiCon. They instantly connect, but since they were both wearing masks, they never get each others names or contact info. I thought this part was really cute (buzzword for this review). It is a very obvious plot point, but having Rosie and Vance initially meet "not as themselves" gives readers an insight into the fact that Vance isn't as "beastly" as everyone makes him out to be very early on.
Throughout the book there's a side plot where a boy in Rosie's school, Garrett (cough cough, Gaston), tries to get Rosie to come with him to the school dance. I was more focused on the Vance and Rosie parts of the story, but overall Garrett is unmemorable and I feel like he was put in just to help fuel the retelling part of the story.
It's a very light and fast read, which has its pros and cons (haha con). I enjoyed the fact that it didn't require much thought to read, but I do wish that some plot points and characters were more developed. I really enjoyed Vance's character, because I felt like he had a sort of depth, and it was interesting to see him sort through his feelings and troubles throughout the book. Rosie on the other hand, I felt was a little bit flat. At some points her characterization seemed to contradict each other, with her being a sweet, quiet, understanding girl, to her automatically hating Vance and flipping him off every chance she got.
The supporting characters were really great in this book! Rosie's dad is so cute and supportive, and Rosie's friends were so fun to read. Rosie's friends aren't the most fleshed out, but I wasn't too bothered by that since they are very minor characters and don't really appear on page that much.
This review is a little short because I don't have much to say about the book, but I rated it three stars! I think that if it was a little longer it would have definitely bumped up to a four star read, but the way it was, I'd classify it as a light, fluffy read!
Have you read any of the books in the Once Upon a Con series? Do you like retellings? Do you prefer heavier reads or light fluffy ones?