It is now the second week of September, which means that school has officially started for pretty much everybody. Now, I don't want to be negative because I really do love learning! But oh gosh, school is stressful. It's only the third week of my semester and I already have multiple assignments, projects, HW, and quizzes? What is thissss. 
But since I clearly don't want to address any of that HW right now, I've decided to compile a list of books that focus around school/college! Just so that everyone, even the people out there who aren't in school anymore (lucky bastards), can experience the back to school spirit together.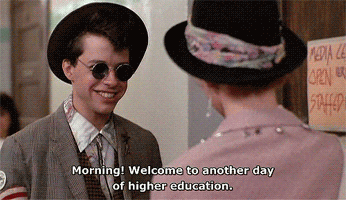 Also, for anyone who is in school, pick a book off this list and read it instead of doing work! Procrastinateee. But also be responsible and do your work, please. Healthy amounts of procrastination. As in, if you have 6 free hours for HW, spend 2 and half of them on procrastination. Yes, it is an exact science. Now to help you with your perfectly balanced procrastination, the books!
You Asked for Perfect by Laura Silverman
Aaaah, this book is perfect! (Please applaud my weak pun.) It follows high school senior Ariel Stone as he tries to juggle an insane amount of school and extracurricular responsibilities in an attempt to reach perfection. It has fantastic anxiety rep, and the Jewish rep is * chefs kiss * to die for! It's a great book to read if you ever want to escape your own school stresses, though I got such second-hand anxiety from this, not gonna lie. You can read Malka's full review here!
We Regret to Inform You by Ariel Kaplan
Is this another book about an overachiever? Yes! Mischa Abramavicius is prime Ivy League material. She has perfect grades, perfect SAT scores, and amazing extracurriculars to pad her resume. So why is she getting rejected from every college she applied for? When even her safety school ends up rejecting her, Mischa goes on a mission with the help of her best friends to find out who's been sabotaging her future. This book also gave me a little bit of second-hand stress, but that's what made this book so good, the stress was completely relatable! 
Fangirl by Rainbow Rowell
I couldn't really write a list of books that have to do with school without mentioning this book. Malka would kill me. Fangirl follows Cath, introvert and extreme fangirl as she's thrown into college life all by her lonesome. Her twin sister Wren wants to spend college becoming her own person, inadvertently leaving Cath with the short end of the stick. Stuck with a fiction teacher who hates fan-fiction and a roommate that she doesn't seem to get along with, Cath doesn't know how she's going to get through the year. 
Carry On by Rainbow Rowell
Immediately after reading Fangirl, you're going to have to read Carry On. Partly because it's an adorable and amazing book, but mainly because Wayward Son comes out in less than 2 weeks !!!!  Carry On features a magical school! Which makes it even more exciting. In their last year of school at Watford's School of Magicks, mortal enemies Simon Snow and Basilton Pitch must somehow learn to get along in order to save the world of witches and wizards from the threat of the Humdrum.
Radio Silence by Alice Oseman
If you haven't read anything by Alice Oseman yet, I don't know what you're doing with your life. Her books are all so good, her characters are so well developed, which is great since her books tend to be character-driven. Another book about an overachiever! Am I projecting? Maybe. Frances is obsessed with school. She studies like crazy with one goal in mind. Oxford. Then she meets Aled, and starts to find ways to unabashedly be herself. 
The Poppy War by R. F Kuang
I just finished this last week and it was so good!! Disclaimer that it is a bit gory, which I know isn't for everyone, but if you don't mind gore, then you should definitely try this one out! The only way for Fang Rin to escape from an arranged marriage is for her to not only pass the Keju-an empire-wide test that's used to determine the future students at the prestigious academies throughout the nation-she also has to ace it. Only the highest scorers are granted access to Sinegard, the most elite military academy in Nikan. I really liked the school aspect of this one because I'm a sucker for the whole masters with apprentices trope!
Master of Sorrows by Justin Call
I picked out this book at first because of the cover (look how pretty!), but I ended up liking it for the characters and the fascinating plot. Here's another book about an elite academy! In this book, the Academy is not only elite but also super sketchy. Located in a secluded village and hidden away by a mysterious forest, the Academy remains a secret from the world at large. Its mission? To keep all magic and magical artifacts out of the world. In a place where magic is strictly forbidden, what is Annev, a boy who secretly hides his magic to do? 
That's it for school-related books for now! I'm kind of tempted to just keep on adding books to this because there are soooo many magical academies that I can talk about, but for the sake of my GPA I'm going to hold back. 
To everyone who is in school right now, best of luck! You got this! To everyone who has already finished school, how did you do it? Tell us your secrets!
What are your favorite school-related books? Are you in school right now? If so, how is it going? What are your tips for succeeding in school?