At this point, I've posted quite a few blog posts about my picky reading tastes. I don't like drama, I don't always read hyped books etc, etc. And I am completely fine sharing those opinions with you on the blog. The problem arises when it comes to reading other people's reviews of individual books. While discussions are my preferred form of content, from time to time I'll check out reviews from bloggers we follow. And I've discovered that many times I end up in a super awkward position. Because the review was amazing, but I find that I still don't want to read the book.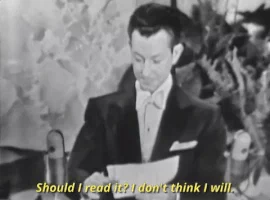 Me after I read a glowing, five-star review of a book
Now the reason this is a tricky position is because I want to leave a comment letting the blogger know how much I enjoyed their review, but I don't want to leave a generic "Great review!", I want to leave something more personal. Especially since I've come across so many fantastic reviews of books that I have no interest in reading. I'm not going to lie and say, "Can't wait to read this one!" because that's just rude. I have no intention of reading that book.
So what do I do in these cases?
I'm still working on it, but here's what I tend to do. Sometimes I take the easy way out and just don't comment, or give a generic comment. I hate when I do this, especially since I sometimes have more to say and loved specific aspects of a review, but when the words aren't coming, it's the best I can do. When I'm able to think a bit more creatively, I tend to say that a review intrigued me. And it's true! I am intrigued! I want to read other reviews and hear people talk about it now! It sounds really cool! It just doesn't sound like my thing. 
How I feel about half the books I read reviews for
But I really want some other way of expressing how I feel, because intrigue makes it seem like I want to read it now, and that's not quite true. That's part of the reason why I'm writing this post. Because now you'll know that if I ever comment telling you how wonderful a review is, that does not mean I will read the book. I might recommend it to others. Or tell people I haven't heard good things. It all depends on the book. But I myself won't necessarily read it. 
My struggle to express myself properly while commenting on reviews, goes one step further when I say I added a book to my TBR. Because in this case I may actually end up reading the book! 
Usually when I say I added a book to my TBR it means that I either added it to Goodreads to remind myself to read it, added it to my mental TBR to look out for it at a bookstore, or I requested it from the library. But none of these things mean I will necessarily read a book. Even if I get a book from the library, I can read the first page, not like it, and send it back. So I might tell you that I can't wait to read a book, but then when I actually get the book, I don't want to read it anymore.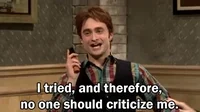 Me when I return a book after trying two pages
So now back to the title of this post. Do your reviews impact my reading? Yes and no. If a book isn't my thing in the first place, I won't read it no matter how fabulous the review is. If I was on the fence about a book, or a book sounds like my cup of tea, the book may make its way onto my TBR. Once it's there, it may wait there a while and eventually get removed without me reading a page. Or I can read a page and decide it's not worth my time. But every once in a while we have those rare gems, where I pick up a book that was recommended to me and read it cover to cover! That scenario is the reason that I read reviews from time to time in the first place. It might not happen very often, but there's nothing better than finding the perfect book from a blogger you trust!
Paper Procrastinators is currently on hiatus, but we'll be back on August 25th!
Do you ever come across a great review of a book you don't want to read? Which book did you love that was recommended by a blogger? Do you like reading reviews? Any suggestions for my commenting woes?