Hello, and welcome to our June Wrap Up! This month is a bit different from previous months. We haven't read that much (by our standards), but we did do a lot of other fun things, including start summer school! Yay! Malka is currently taking a physics class while Chana is taking a math class (her last one of college!!!!), and will be starting another class in July. But you're here for the books, so here they are! As usual, all covers link to Goodreads!
Books Read:
Malka: 
This was a bit of an interesting month for me. I started off the month reading the books you see listed in the 4 and 5 star section. I read 2 of my BookCon books and loved them (Technically, You Started It and Mooncakes). I even have a review up for Technically, You Started It! I read The Cardboard Kingdom, which is a fantastic graphic novel. I also had my first buddy-read by reading The Unhoneymooners with Ellyn @ Allonsythornraxx!  While I didn't love the book, I had a really fun time chatting with Ellyn as I read! I also am really excited that I've read 68 books in the first six months of 2019, because in 2018 I read 68 books by the end of the year!
But the end of the month was such a mess. I finished up some other BookCon books that I just didn't enjoy, and then I started a string of rant inducing books. I actually DNFed a book when I had less than 80 pages left, since it was impacting my mental health way too much!
And it didn't get better from there! I started a review book, only to dislike it. And then I picked up Fix Her Up in hopes of reading a cute romance. I have a long, ranty Goodreads review about why I disliked this book so much, but I was strongly considering DNFing it, and was quite disappointed in it. My only consolation is that I started reading Sorcery of Thorns at the very end of the month and I'm LOVING it! Had it not been for Sorcery, I probably would have sworn off books for July and entered a reading slump, which is no fun for anyone!
5 Stars:
4 Stars:
3 Stars:
2 Stars:
Chana: 
I know that every month I talk about how little I've read, but I think I just have to resign myself to reading an average of 13 books a month because life is BUSY! This month I managed to read Morning Star and Godsgrave, two books that have been on my TBR for so long that they had begun collecting dust, mold, and vengeful spirits. So I'm really happy that I managed to knock those out. I also borrowed about 25 books from a variety of people, which on the one hand, yay! More books! But on the other. Oh no. More books. Did this stop me from going to the bookstore and perusing the used book section at least once a week? No. Of course not.
5 Stars:
4 Stars:
3 Stars:
2 Stars:
Books Acquired:
Malka: 
I normally get about 5 books in a month, but this month I accumulated 15! The first 10 I got at BookCon which I already listed and discussed in great detail here!
As for the other 5, one was a gift from my mother, one was a review copy from Netgalley, two came in the June NOVLbox that Chana and I repped for, and the last came from the June Uppercase that we repped for. Out of all these books I was most excited for Sorcery of Thorns, and I've mostly finished it already because of said excitement! I can't wait to discuss it further in future posts because I love it already!
Gifted:
NetGalley:
June NOVLbox:
Uppercase:
Chana: 
I got so many great books this month! My dad gifted me two books for the holidays, and a friend of mine, who knows how much I loved We Are the Ants, gifted me At the Edge of the Universe. I also got 9 books from BookCon which you can see here! But the book that I'm most excited about this month is Unstoppable Moses. Y'all better brace yourself for this. But. The cover. Glows. In. The Dark. !!!!!!!! I bought the book not knowing this exciting tidbit so imagine my surprise when I brought the book into my dark room to see green glowing shapes on the cover of the book.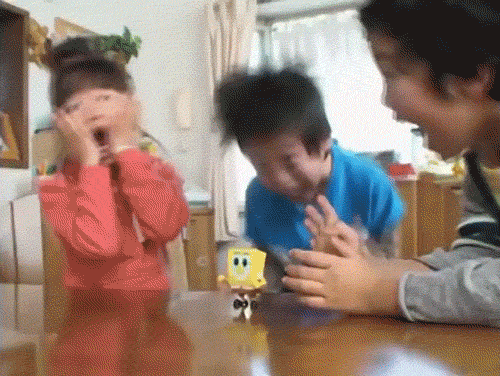 A pretty good representation of my reaction to the glow in the dark cover
Gifted:
Purchased:
NetGalley:
NOVLbox:
Things We Did:
At the very beginning of the month we went to BookCon! We got lots of books and had a really fun time in general, and you can read more about it HERE!
As you might have noticed from our hauls, we also were June reps for the NOVLbox, which was really fun! This was also our last month as reps for Uppercase which was a bittersweet moment, since we had such a good time and are sad to see it end!
Chana:
I had the opportunity to meet the Try Guys at an event in honor of their book release at The Strand! It was so cool to meet them, and I also got a signed copy of their book, which was super cool as well.
Chana meeting the  Try Guys
Chana was in a Try Guys video in very small for half a second! (And she absolutely freaked the F out.) Play Malka's favorite game, Spot the Redhead, at 7:17
Blog Accomplishments:
We finally have a joint footer! Now it should be extremely clear exactly who is posting what around here!
More than 180 humans decided they wanted to follow our blog. We're still in shock. Our Blogoversary is coming up on July 4th, and we're so excited that we get to share this exciting day with so many of you!
We also had a first in our stats! This was the first month that we had over 1000 views! It was really cool to watch the number turn from 999 to 1K!
Posts We Loved:
Sophie @ Me and Ink discusses her feelings about blogging schedules.
Tiffany @ Read by Tiffany gives a guide on how to create rainbow moodboards.
Olivia @ Purely Olivia discusses the pros and cons of having a blogging niche.
Laura @ Boats Against the Current asks whether or not you choose to read  mediocre books.
How was your June? What was your favorite read? Did you acquire an excessive amount of books this month? Are you excited for summer?