Recently a few books have reminded me that I really hate drama. Because I reviewed a few of these books, I wanted to write this post to clarify why I dislike drama, and why that doesn't mean that a book I disliked for the drama is a bad book. Because my opinions about drama are just that, my opinions.
The first thing you need to know is that I dislike drama in books (and other media as well). As a general rule, I like happy fluffy books. Now you may be thinking, "But Malka, don't you want there to be conflict or a plot or some story in your books?" And my answer is absolutely not! Last year for my birthday, my friend wrote me a short story that was pure fluff and cuteness with zero plot as a present, because she knew how hard it is for me to find those kinds of books. I can be okay with minor inconveniences, but generally, I don't like when major drama occurs in books.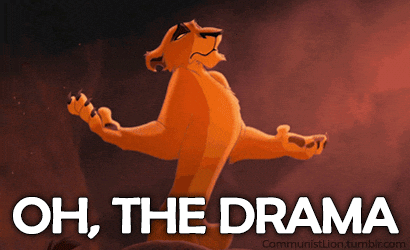 There are several reasons why I feel this way. The first is that I don't like getting stressed out and anxious because of a book I'm reading. I know many bloggers and readers love talking about books that make them feel a certain way. Many people enjoy when they are stressed out or in pain for a character!  But I am not one of those people. I cannot handle a book when it gets too stressful. I will physically put a book down if it is stressing me out too much. This means that I many times put down a book for hours, and sometimes even days in the middle of an important battle scene or otherwise impactful (read: stressful) moment. Most people want to continue reading to find out what happens next! To see if everything ends up okay! But I force myself to take a step away until my emotions get under control. I have enough in my life that stresses me out, I don't need to take on the burden of a character's emotion as well.
This is one of the reasons why I don't read much fantasy or hard-hitting contemporaries. I physically cannot handle all the emotions that the characters go through. In most fantasy books the story is optimized for maximum drama. There are lots of reveals and plot twists and other sorts of devices that build tension. Characters tend to go through awful experiences in order to maximize their pain, and I don't like reading about characters in pain! WHY CAN'T EVERYONE BE HAPPY ALWAYS? I much prefer character driven books which don't focus on drama as much. And if it does, it's usually in a more drawn out way where I don't have to worry that my emotions will ricochet all over the place as I read.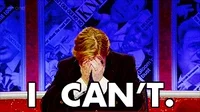 My response when I'm expected to handle a character's drama
Which brings me back to my point about drama. See there are books where I understand that there is drama. I do sometimes read hard-hitting and dramatic books. I've even read many dramatic fantasies. (Although writing this post is helping me solidify my decision to read less fantasy in the future.) But I like when drama and pain and emotion is purposeful. And of course, I happen to have very high standards for what purposeful is. So if I think that dramatic scene is placed into a book just to wreck with my emotions and to make a character's life miserable, I don't appreciate that. If the drama seems natural to the story, then I'm less likely to take issue, because that's just how life is. And so I might be okay with the drama.
I am not okay with using emotions and drama as a plot device, however. There are many plot devices and tropes that are there to create drama and emotion and I do not appreciate it. Miscommunication causes drama, fake (and impermanent) deaths create drama. (At the current moment I'm just thinking of  Romeo and Juliet which embodies ALL THE DRAMA.) If I think that any form of drama is contrived or unnecessary I immediately take issue with it.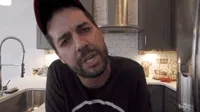 Me when I come across drama in a book
Since there are some books with drama that I've enjoyed, I will sometimes take a chance. But I'm very picky. So if I'm reading a review or synopsis and see that a book has lots of drama or a roller coaster of emotions, I may be intrigued, but I probably won't pick it up and read it. I've learned to take my emotions into account both so I have a higher chance of enjoying a book, but also because my mental health is important and I don't want it to take a nose-dive because some character has everything going wrong in his or her life.
And there you have it! This whole long post is here to clarify my feelings on drama and to tell you that you may very well enjoy several books that I've given a lower rating because of said drama. If you ever see that mentioned in a review, now you know. It probably was just a case of it's not you, it's me.
How do you feel about drama? What's your favorite non-dramatic read? Do you like feeling all the emotions when you read?