I received this book from Netgalley in exchange for an honest review
Aaah, I absolutely LOVED this book! I was about to say that I love body swap stories, and then I realized that my only other experience with a body swap stories was The Swap and Freaky Friday. . . so. But I still think it counts! Body swap stories are the best!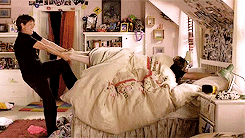 Freaky Friday throwback
Goodreads // Amazon // Book Depository // Barnes & Noble
Ezra Slevin is an anxious, over-thinking, chronic insomnia who desperately wants to ask Imogen (the object of his obsessive affections) to the prom. Wynona Jones is the headstrong, outspoken, confrontational best friend of Imogen. And it's her mission to make Ezra's life a living hell. Cue the night of the solar eclipse, where Ezra and Winona mysteriously switch bodies and continue to do so every alternating day. After realizing that Wynona has an enormous crush on Ezra's best friend Holden, Ezra and Winona decide to form a deal. Pretend to be each other and get their best friends to fall in love with them, ultimately achieving the main goal of taking their respective crushes to Prom. There's no way this could end badly.
Okay, so I know that premise is a bit weird. I mean it's very weird. But it's also really good! Like I mentioned I've only have read one or two body swap stories before, but I feel like none could handle it as well as this one! This book is sort of like if everything I could ever dream of wanting in a hilarious, meaningful, and dramatic body swap story, actually became a book. Which I guess it did.
Like I said, this book is really funny. The characters' interactions are hilarious and the friendships also felt very real. Ezra and Holden's, and Imogen and Winona's friendships are absolutely amazing. They're supportive, encouraging, and understanding, and are always there for each other and I love it.
I also love how real of a character Imogen was. I often find in books where there is an awkward high school boy in love with a girl, the girl is always way out of his league, and perfect in every way, and popular, etc etc etc. But Imogen wasn't like that at all! Ezra likes her because she's nerdy, and fun, and has enormous hairy eyebrows. I liked how realistic that was as opposed to loads of other high school romances out there where the couple is idealistic or superficial.
I obviously cannot write a review for this book without mentioning the SHAKESPEARE. For those of you that don't know, I love Shakespeare. And any YA books that reference Shakespeare get an automatic gold star from me. At the beginning of the book, Ezra, Holden, Imogen, and Winona, get sentenced to detention, however, it's not your average detention sentencing. They get sentenced to detention via 12th Night. Due to an issue concerning their high school's theater department, everyone who got detention is required to participate in the school's upcoming production of Shakespeare's 12th Night.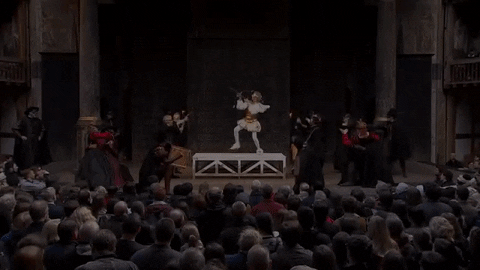 **SHAKESPEARE**
Reading about Ezra and Imogen's passion for theater (they're such nerds) and performance was amazing, and I loved how one of the many themes that this book dealt with was learning how to be true to oneself and to express oneself in whatever way that feels right.
There were so many fantastic parts of Where I End and You Begin, and this book made me smile time and time again while reading it. It's a definite 5 star read from me, and I can't wait for everyone else to read it and fall in love as well.
Goodreads // Amazon // Book Depository // Barnes & Noble
Do you like body swap stories? Have you watched Freaky Friday? Are you planning on reading this book?