Goodreads // Barnes & Noble // Book Depository // Amazon
I received this book from NetGalley in exchange for an honest review
Trigger warnings: Emotionally abusive ex-boyfriend
The Flatshare is a book I picked up expecting to love for one reason but ended up enjoying for another!
This book follows Tiffy who needs to move out of her ex's apartment but is on a tight budget. The solution comes in the form of a flatshare. Leon is a nurse on the night shift and is renting his place to Tiffy from 5 at night to 9 in the morning. The agreement is that they won't meet, but there's nothing to stop them from communicating via post it notes.
How the apartment looks by the end of the book
Obviously, I expected a romance from this book, so I may as well start there. The romance was actually not one of my favorite parts of the story! I didn't feel the chemistry between Leon and Tiffy, although I appreciated their relationship and how their friendship grew. I loved their interactions and shipped them as friends, but whenever they interacted romantically I wasn't convinced. Since I was excited about the romance, this was definitely a bummer.
But! The book ended up gripping me for another reason! Tiffy is dealing with her ex-boyfriend throughout the book. At first I just thought that Justin, her ex, was a loser, but as the book went on it became more and more obvious how emotionally abusive he was. It was very well done, as the reader starts making this realization at about the same time as Tiffy does. Or maybe a bit sooner because of Tiffy's wonderful friends.
Mo and Gertie are Tiffy's two best friends and I honestly loved their friendship so, so much! They were always there for Tiffy, but also knew when to give her space and let her work things out on her own. I especially appreciated Gertie, because she was such an outwardly gruff person, but had the biggest heart!
This is also a very British book, which I did not know before reading it, although I probably should have been clued in by the title, since it's not called The Apartmentshare. This is neither a good or bad thing, it just meant that there were some terms that took a moment to translate to American English. This book is also told in dual perspective, and the two characters have very distinct voices that represent their personalities very well. Tiffy's is overflowing with adjectives and exuberance, while Leon's is more clipped and to the point. At first this made me dislike Leon's chapters because his voice was so different than what I'm used to reading, but it really grew on me as I read! I ended up really enjoying the difference by the time I had finished!
Even though Leon was a more closed off character, you got to see his warm and fuzzy side through his interactions with some lovely side characters. Leon would do anything for those he cares about and this is especially true for his brother Richie, who has been wrongfully imprisoned. I really loved Richie and I was so glad that he was such a big part of this book! In addition to Richie, some of Leon's patients were also his friends, as much as Leon would deny it, and it was wonderful to see his interactions with them as well.
The biggest factor that detracted from my enjoyment was the drama! I know that this is a more personal issue, but over the top dramatics sometimes get to be too much for me. Lots happened in this book, most of which was predictable, but also incredibly angsty, and the combination of the two just made me frustrated.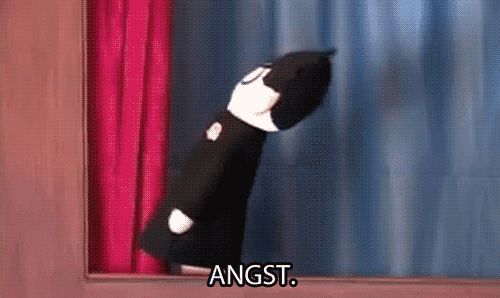 Me when I come across predictable angst
To sum it all up, I had some issues with the writing and plot, but I very much enjoyed all the characters! I'd recommend this book to Sophie Kinsella and Christina Lauren fans who appreciate lots of angst and drama!
Goodreads // Barnes & Noble // Book Depository // Amazon
Have you read this book? What did you think? Do you appreciate angst in books?