When I thought of the idea for this post, I was super excited. A fun, cute, and fresh letter to my TBR, addressing all the problems I have with it and how I can improve upon them. Unfortunately, it had slipped my mind that every single time I go to write anything in letter form, I automatically project the attitude of a young Victorian woman whose lover is lost at sea.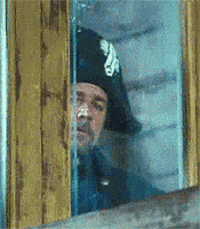 Me, gazing out the window dramatically as I write the letter
Anywho, I hope you guys enjoy my overdramatic ramblings. And perhaps you'll discover new ways to deal with your own TBR (you will 100% not gain anything from this), and soon you too can write dramatic Victorian letters to address every issue in your life.

My Dear To Be Read (more affectionately known as TBR),
There have been things that have been weighing on my mind for some time now, and it seems that this is as good a time as any to address them. I would like to begin by reminding you how much work I have put into making you grow. I have traveled far and wide, from blog to shining blog, from review to review, just to find more books to help you become big and strong. I have put books that I have been looking forward to for months on you, and books that I was on the fence about and probably wouldn't end up reading ever.
I guess therein lies my mistake. It seems that that small misstep is what made everything go wrong. I remember the days when we were so good to each other. I would add books to you and take them off right away, there was a system! There was order! But alas, all good things come to an end. After many moons of adding and adding and adding books, you morphed from my once loved and looked forward to TBR, to something large and threatening.
It once brought me joy to look upon you. To see the beautiful list of books that would soon be mine, but now I only experience trepidation. I have dug myself into a hole I cannot get out of, and I just wish things could go back to the way they were. I often ask myself whether or not this is my fault. I know deep down that it is, if I wasn't so overzealous, so eager to experience all the books out there, we would still be together. Constantly checking up on one another, growing together, laughing together, living together.
But now I must be like Dr. Frankenstein and face the monster I have created. You are my responsibility and I cannot let you do any more harm to myself or others. It pains me to say this, but I may have to begin removing books from you.
It is ironic is it not, that my folly will be your downfall? I that created you and nourished you shall now take you apart piece by piece. I hope that you can find room within your shelves to forgive me. I know that I am doing the unthinkable, but in the end, it will only benefit the both of us.
Begging your forgiveness,
Chana
How do you guys manage your TBR? Has your TBR always been out of control? What advice do you have for me?