Welcome to our first monthly wrap up of 2019! (And of ever. Yearly wrap ups are a separate animal). Today we'll be sharing with you all the bookish things. This month was mostly a vacation for the 2 of us so we managed to read quite a bit! It's no coincidence that we decided to start doing monthly wrap in the month that we read the most, but this is just a disclaimer that our future wrap-ups will probably be a lot less impressive than this one. Also, since we don't yet have enough work to make this an impossible task, all covers link to Goodreads.
Books Read
Malka: I managed to read 12 books this month and I'm so proud of myself! Especially since upon looking at Goodreads I discovered I read 0 books in January last year. So, this is quite the improvement.
I also got through a whole bunch of books that I've been meaning to read for a year or more, so I'm quite happy about that.
Favorite: Unbroken. My favorite anthology ever. Only one story I didn't enjoy, and SO MANY that I LOVED!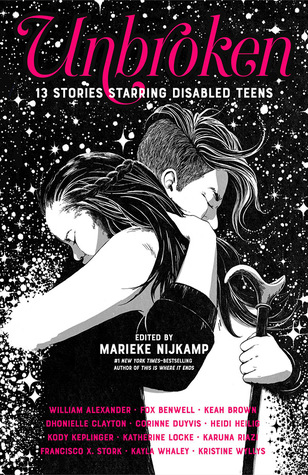 5 Stars: 2 Books
4 Stars: 6 Books
3 Stars: 3 Books
2 Stars – 1 Book

Chana:  I read 25 books this month which is actually over my original goal of finishing 20! I'm really happy about it since now that school's started again I don't think I'll be reading nearly as much, so getting this many books read in one month is great.
Favorite: Confessions of an Imaginary Friend was probably my favorite, it was so cute and sweet and hilarious! And it had been a while since I read a book so free of angst, it was lovely.
5 Stars: 6 Books
4 Stars: 11 Books
3 Stars: 6 Books
2 Stars: 2 Books
Books Acquired
Malka: I actually have a haul this month. Which is rare, but vacation inspires spending. This is a big haul for me, but it's less than 10 books so….Two of the books I bought at author events which was quite exciting.
Purchased:
NetGalley:
I very excitedly got approved for Eyes on Me by Rachel Harris. I'll probably read this book in February because it sounds adorable.
Chana: I don't think I bought that many books this month.
Purchased:
Things We Did
This month was filled with book events. Malka attended The Gilded Wolves event in NYC that included Roshani Chokshi, Melissa Albert, and S. A. Chakraborty on a panel, with a signing that follows. It was a great event, and I now really want to read City of Brass!
Chana and I also were able to attend Leigh Bardugo's launch party for King of Scars at the Strand this month. There was a meet and greet before the signing, where we got swag, like pins and passports, and got the chance to answer trivia about the Grishaverse.
Then at the event, Leigh focused on questions from the audience and gave the most amazing answers. She was hilarious and had us laughing the whole night. We also got to meet our Bookstagram friend Erin from thebookists and meet all sorts of really nice bookish humans.
While waiting on line I also met the talented Tatiana from tatianasweaving who makes the most amazing needlepoints. Everyone should go follow her to see her amazing work!
Then we got our books signed and were handed cookies as we left. Quite the event!
Posts We Loved:
Michelle @ Chelle's Book Rambling  Original Plot – Is this an Oxymoron?
Laura @ Boats Against the Current Is the future of reading digital?
Cait @ Paper Fury Cover Reveal for The Boy Who Steals Houses
Shannon @ It Starts at Midnight Open Endings Can You Live With Them?
Tell us about your month! Did you read anything exciting or go to any events that you enjoyed? Which book are you happy we read or bought?