Hello again! After not hearing from us in a month you're getting two posts in a row! Lucky you! While we do intend to do better this year, don't expect this prolific amount (yes, two in a row is prolific) from us regularly.
Since we started our blog in middle of 2018, we never got the chance to make a goals/resolution posts for the year. So for the first time ever we get a chance to lay out our plans and goals which will hopefully help us have a more structured bookish 2019.
BLOGGING:

First let's discuss overall goals. In 2019 we'd like our posting schedule to be better. We're thinking that we got a bit caught up in school and that kept us from posting ANYTHING. So our goal is at least one post a month, hopefully two, so that even during the tough months we're putting out content. And of course in the good months we'd like to have at least one post a week.
We had a lot of fun participating in last years discussion challenge so we plan on participating this year in the 2019 Discussion Challenge that's hosted by Nicole @ Feed Your Fiction Addiction and Shannon @ It Starts at Midnight.
Discussion posts are some of our favorites to write and probably what you'll be seeing when the schooling gets grueling. 
Chana:
My goal is to write more reviews in 2019, though I know that people don't like reading reviews as much as they'd like reading discussion posts it's still something that I want to be able to do better and more of. Personally, I love reading review posts since it gives me ideas for books I want to read so I'm assuming that there are a few people out there like me who would like to read reviews of books as well.
Malka:
I actually want to to focus more on discussions and tags. I have something written about how difficult reviews are for me, which you'll see later this year, and I think that explains why I want to write less reviews. Well, write less, or change the format. Something has to change. Regardless, reviews are really difficult for me to write, so I want to write more of what makes me happy.
READING:
Chana:
Ideally I'd like to read 200 books in 2019. I'm a bit scared to be putting this into writing since my Goodreads goal will probably start smaller and hopefully work its way up. I'd also like to finish all the books that people have been recommending me. Sure it's a herculean task, but there's no harm in trying.
I  also want to crack down more on my NetGalley reads. At this point I can't really complain about not getting approved for more books, since my feedback ratio is atrocious. So 2019 will hopefully be the year that I get that 100%.
Malka:
Chana is taking my method of starting small for Goodreads. I taught her well. As of right now I have my Goodreads goal set at 30, but if January goes well I'm going to raise it to 50 by March. Ideally I'd love to read at least 100 books this year, as I've read 120-250 in previous years. But since that's too much pressure, 50 is the main goal this year, with 100 being extreme sports.
I trained Chana in how to use NetGalley she didn't make my mistake of requesting some random books like I did. So instead of reaching for a 100% ratio, I'd like to have a 90% or higher feedback ratio on NetGalley.
I also would like to finally finish all my books from BookCon 2017 and 2018. Besides for that I don't really have specific books in mind to read.
BOOKSTAGRAMMING:
Bookstagramming is something that is near and dear to both our hearts, so we'd like to cultivate our Instagram more and do more posts as well. Participating in an Instagram challenge is also something that we look forward to doing in 2019. We both love taking pictures but it's incredibly time consuming, so we've decided to take as many as possible without beating ourselves up if we can't post.
OTHER BOOKISH GOALS:
2019 is a year to read write and be merry. A year to connect with our fellow bloggers and bookstagrammers and to broaden our horizons. Hopefully 2019 will be a year filled with good grades and good news as well, but worse comes to worse, we can always turn to books for therapy.
Most anticipated releases of 2019:
Chana: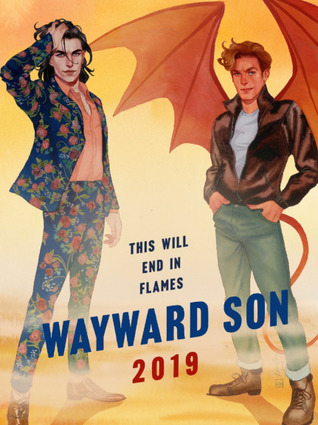 Malka: