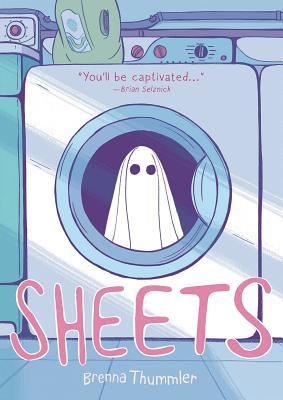 Let me start by saying that if you're one of those people who are currently trying to get into the Halloween spirit, this is the book for you.
Sheets tells the story of Marjorie Glatt, a 13 year old girl struggling to keep her family's laundromat running less than a year after her mother passed away. Trying to manage school bullies, making sure her dad gets out of bed, rude customers, and a man attempting to buy the property that the laundromat rests on, is obviously too much for a regular 13 year old to handle. Meanwhile, Wendell, a forgotten ghost boy with no friends, flees from the land of the dead and finds haven in Marjorie's laundromat, unfortunately for Marjorie, her unwanted guest seems to have a knack for sabotaging her hard work. 
This book was not what I was expecting.
To be completely honest I only had a vague idea of what the book was about and had no clue that there were real ghosts involved in this story. So, I guess that was an unexpected (but pleasant) surprise. Brenna Thummler's interpretation of ghosts is so cute, I mean, I am all for the dead people become linen idea, especially when some of the linen get to accessorize with glasses and headbands and turbans.
The plot was unique, but I definitely felt like it was lacking at some points. It was very rushed towards the end and parts of it were a bit flighty and all over the place. But I absolutely loved the art! The use of color was so nice, especially when the book switches from the world of the living to the world of the dead, the contrast is just pure genius.
My only complaint is that I wish the book was longer. The plot is sweet and I really liked Brenna Thummler's interpretation of ghosts and the 'ghost world', but I felt that towards the end it was a bit rushed in wrapping up.
I would still definitely recommend this book, if not for the plot then definitely for the amazing art.
3/5 Stars
⭐⭐⭐
Have you read Sheets? What did you think? What's your favorite ghost story?