Ok, first things first, if you haven't heard of this wonderful book yet where have you been?
A Thousand Perfect Notes is C.G Drews debut novel and it is wonderful.
I only recently joined the bookish community, and the first person who Malka suggested I follow was @paperfury, so my first taste of the blogger and bookstagram life was seeing Cait post about her upcoming book. I was obviously enamored by the gorgeous cover, and then when I started hearing all the wonderful reviews I knew I had to read it.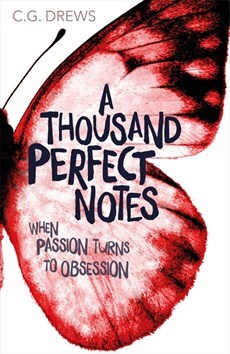 Synopsis:
Beck lives in fear of his mother, he slaves over their piano, the only valuable object in their decrepit home, in order to please her but nothing seems to be enough. Constantly berated by a slew of verbal and physical abuse, Beck feels like the music inside of him is dying. Knowing that his mother will never let him turn to his true passion of composing music, Beck resigns himself to a life of misery. Until a class assignment forces August, a bright girl with a heart of gold, into Beck's path and he begins to realize that there may be an escape after all.
First let's talk characters.
All of them were wonderful. Even the Maestro (Beck's mother), but not in the "She's a wonderful person." wonderful, more like "This is a really well written horribly mean character." sort of wonderful.
Beck is so sad and angry, but I love him so much. He's like a big ball of hurt, sadness, and self-doubt and he deserves better. Believe me when I say that you'll fall in love with him. He clearly develops a character throughout the book (which is always a good thing).
August is a sweetheart who is the literal embodiment of the he protec meme. She's a fierce animal protector and she's the stubbornly supportive friend that everyone wishes they had. I don't think you really got to know August that well in this story, though this makes sense since Beck is the primary character, and I think that she acts more as a catalyst for Beck than much else.
Joey (Beck's little sister) is my favorite character. She's an angry little German cussing snowball. Where Beck is anger and hurt, Joey is anger plus a passion for cooking. One thing I learnt from this book is not to give a 5-year-old free reign of the kitchen.
The plot is very fast moving so you can read it in one sitting (which you probably will anyways), and the ending is spectacular. No spoilers obviously, but I often find myself underwhelmed by endings especially in standalone novels, but C.G Drews wrote the ending so wonderfully. It has you thinking of what happens next without being dissatisfied.
The writing is absolutely incredible, especially the scenes with music. A Thousand Perfect Notes smushes heartbreaking, breathtaking, and uplifting into one spectacular book. And you should all read it. So get on that.
5/5 Stars ⭐⭐⭐⭐⭐
Have you read A Thousand Perfect Notes yet? If you did what were your thoughts on it?